There you are, you are sure, you have found the person you want to make your life with, you love him or her with all your heart and everything is going well between you. You plan to soon take the plunge and propose to her/him, because you can't imagine continuing your life without her/him.
But you don't want to do this anyhow! It's a unique moment that should remain engraved in her/his memory all her/his life, it should be romantic or unusual, but above all perfect in every way. Your Paris proposal planner are going to give you our top 5 most beautiful wedding proposals to help you organize a perfect wedding proposal.
5 unusual scenarios
Imagine: the scene takes place on a beautiful summer day, you start the morning by bringing breakfast in bed to your future fiancé.e, then you go to a park to have a picnic, enjoy the sun and nature. During the rest of the day you simply walk to visit Paris and its nooks and crannies, you even pose for some romantic photos. An incredible day for the one you love, but it's not over yet, you still have a surprise in store for him/her…
1
.
K
l
e
b
e
r
R
o
o
f
t
o
p
w
i
t
h
v
i
e
w
o
f
t
h
e
E
i
f
f
e
l
T
o
w
e
r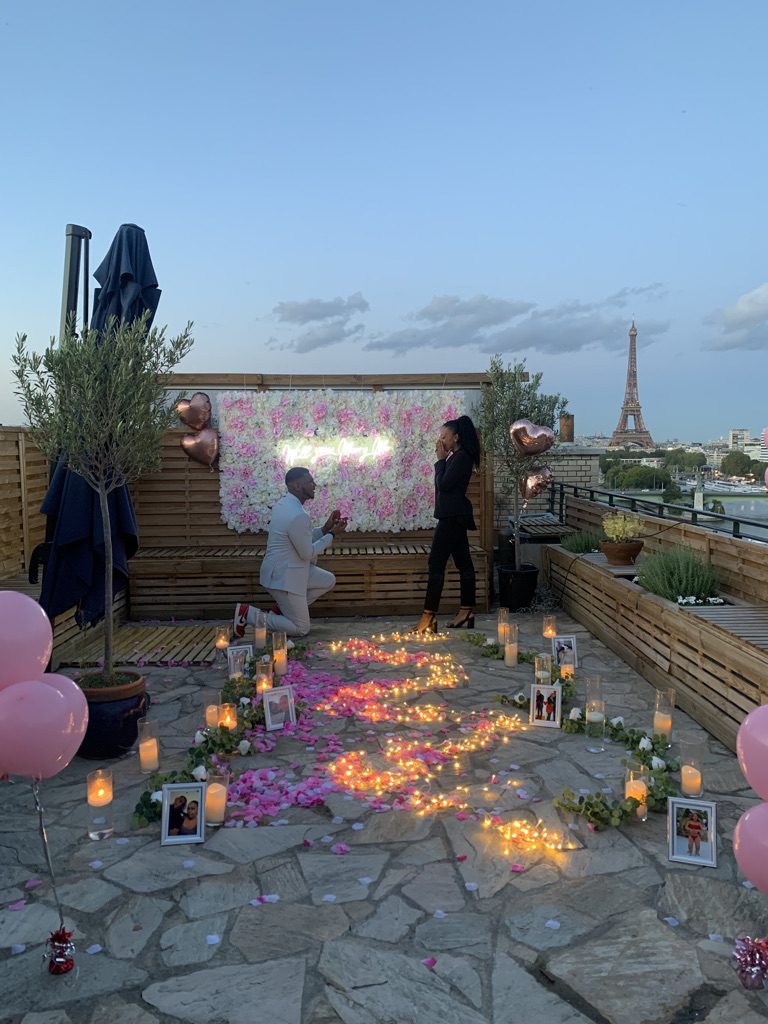 It's almost 7:00 pm and you've been walking all day in the beautiful districts of Paris. Your friend had a great day, but it is true that this long walk made him/her a little tired. Your partner suggests that he/she would like to find a place to rest. You joke that it would be great to be able to sit on a rooftop to see Paris from the heights. At about the same time, you enter the Avenue Kléber, a very famous and historic street in the capital. You see the Raphael, a 5-star hotel and many other important buildings. You invite him/her to enter one of them and from that moment on you blindfold him/her.
You guide your beloved to the roof of the building, only then you allow him/her to take off his/her blindfold, allowing him/her to discover a superb rooftop with a view of the Eiffel Tower. All the elements are there, you can ask him/her the question that has been burning your lips for so long. Once your request is made and her/his answer given, you can give her/him a final surprise by explaining to her/him that you will be sleeping in an apartment in the building for tonight.
2
.
A
r
c
d
e
T
r
i
o
m
p
h
e
R
o
o
f
t
o
p
w
i
t
h
a
v
i
e
w
o
f
t
h
e
E
i
f
f
e
l
T
o
w
e
r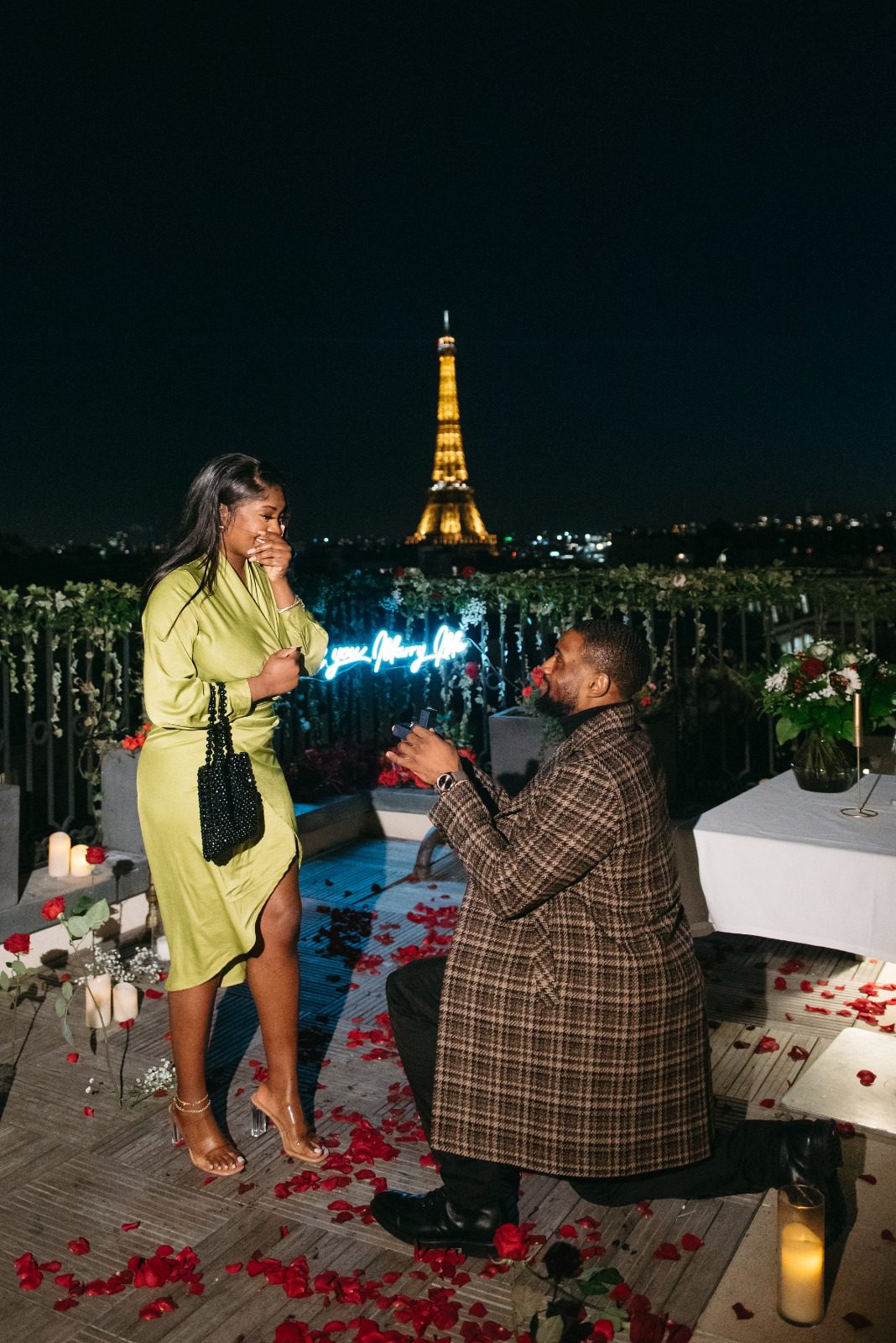 Here, we remain in the same state of mind as the previous one, except that the scene takes place a little closer to the Arc de Triomphe, this emblematic and mythical monument of Paris that will surely mark its memory. With the terrace set up, music, champagne and butlers to serve you, you will offer him/her a magical moment worthy of a Hollywood movie or the most beautiful fairy tales.
3
.
S
t
r
o
l
l
i
n
t
h
e
s
t
r
e
e
t
s
o
f
P
a
r
i
s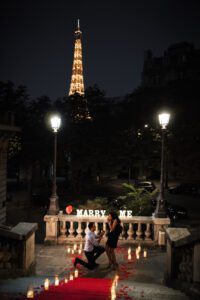 In the evening, you surprise her/him by taking her/him to dinner at a fancy restaurant where you'll be dressed to the nines. Once the meal is over, you walk hand in hand through the typical little streets of Paris, until you reach the top of a staircase with a red carpet, candles and rose petals. In the background you can see the illuminated Eiffel Tower and at the bottom of the stairs there are illuminated letters where you can read: "Marry Me". Your better half is just beginning to realize what you are doing, and when you kneel on the ground, you ask her/him the question.
4
.
C
h
i
c
p
i
c
n
i
c
o
n
t
h
e
b
a
n
k
s
o
f
t
h
e
r
i
v
e
r
S
e
i
n
e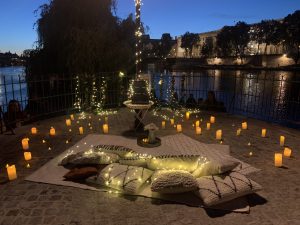 In this case, you don't go to a restaurant in the early evening because you reserve something quieter, but just as romantic. You walk along the quays of the Seine, it is almost 9:00 pm and your darling makes you understand that he/she would like to sit at the table. You tell him/her that you too would like to stop for lunch, when in the distance you see the scenery below:
You are walking with the air of nothing in the direction of this charming place, there is champagne, food and in the background, one of his favorite songs. A few meters away, you offer him/her to sit down and that's when he/she sees a message in the scenery: "Marry Me". All you have to do is bend your knee to make him/her understand that this is what he/she is thinking about.
5
.
P
r
i
v
a
t
e
a
n
d
r
o
m
a
n
t
i
c
s
c
r
e
e
n
i
n
g
Your fiancé.e does not especially like things too extravagant, he or she will prefer a small evening in an enclosed space in your company, to an evening on the roof of the Arc de Triomphe with butlers. So you take him or her to this room, a small, vaulted, furnished room with a video projector that scrolls through photos and videos of the two of you. You take advantage of this secluded place to talk nostalgically about your relationship until the last image of the slide show arrives. You pause to declare a text that you have carefully prepared and that explains how you feel and what you are planning for the future… Then, you finally pass the last slide where it says "Marry Me" while making your request.
The surprise is total, his/her eyes light up and the emotion rises, you have offered him/her a dream day and have organized everything to make this moment an imperishable and magical memory. You had control over the whole day, but now it's up to your half to decide what happens next…