The Leading Marriage Proposal Agency In Paris
A marriage proposal in Paris ? Yes ! But how? Should you propose in a classic or rather unusual and unique way? Should we prepare it well in advance for you? Which providers do you prefer? All these questions may make the marriage proposal planning process seem intimidating. However, don't hit the panic button just yet. At Les Entremetteuses, we make the entire process easy and will help you plan the perfect marriage proposal in Paris!
Even if you have an idea in mind about the proposal you want or need to start from scratch, we will help you plan her dream custom marriage proposal or any romantic events.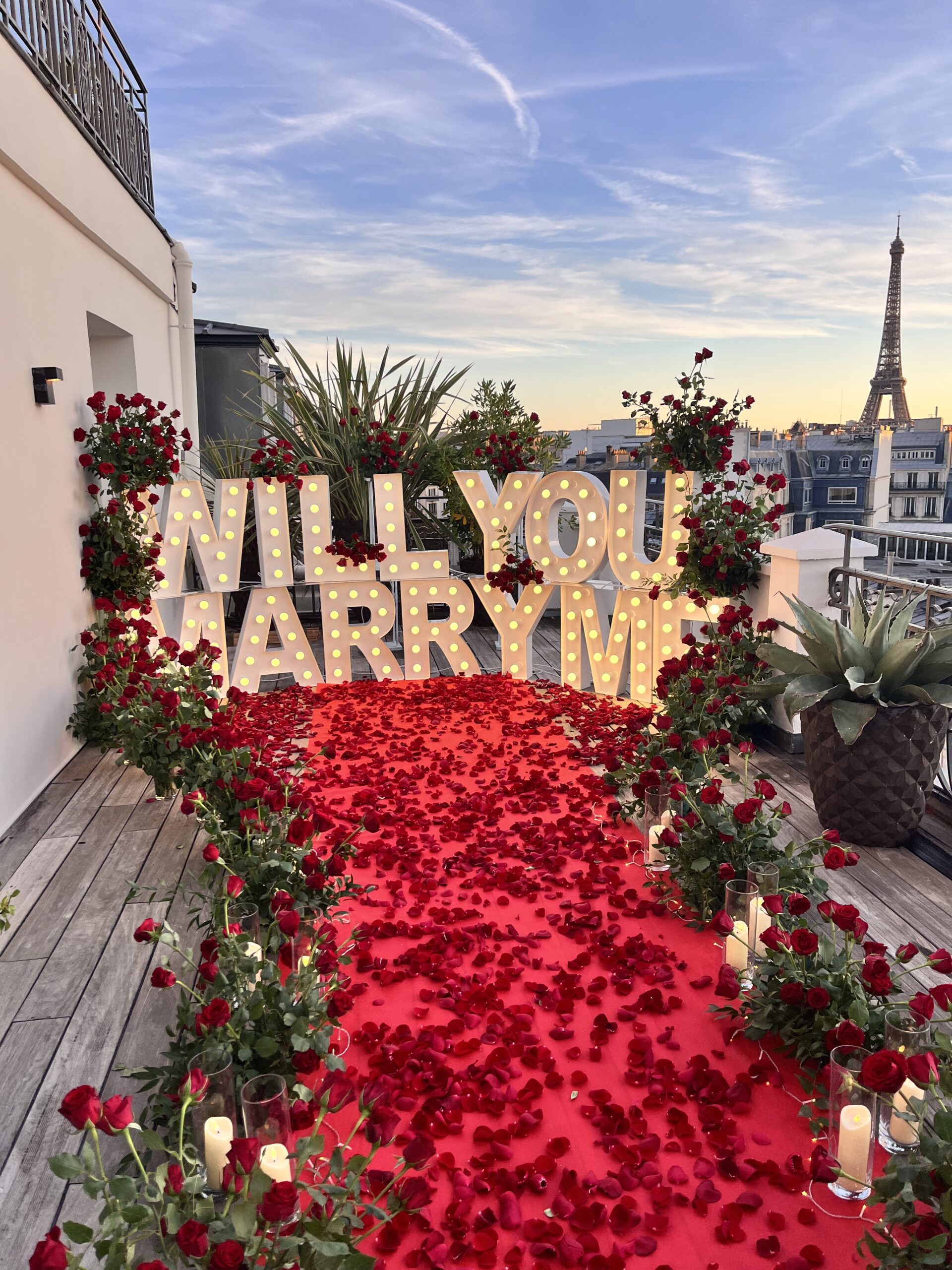 Plan Your Parisian Marriage Proposal From Start To Finish 
                                                                     

  A REAL CHALLENGE THAT WE HELP YOU TO TAKE UP

Your Paris proposal planner will explore the proposal ideas for you and ensure that all its elements are unique, just like your love story.

Whether it's a spontaneous proposal or well-planned occasion months in advance, we will make this event memorable for you. All you will have to do is put your knee on the ground with a ring in your hands and make it instant a dream come true for your beloved.

Whether you prefer a rooftop proposal under the Parisian sky or in front of the Eiffel Tower, Les Entremetteuses will help you bring your Paris proposal ideas. We will take care of all the planning from A to Z. Now, you can look forward to living this magical moment with your significant other.
                                                                     

  ENGAGEMENT SET UP & DECOR :
Some ideas from your marriage proposal planner
How do you imagine your romantic proposal ? How about doing it at sunset with the sparkling Eiffel Tower to match those of her engagement ring? Whatever your idea is, Les Entremetteuses will assist you choose the most meaningful to your loved one. Giant LED « marry me » letters, candles, rose petals, red carpet : our passionate team of marriage proposal planner will help you throughout this process.
If you prefer a unique and custom marriage proposal but you don't have any precise idea in mind. Let our experienced team provide you a lot of different ideas to surprise her and help you create the most unforgettable moment of your lives :
• An intimate atmosphere on the rooftops of Paris, • A cruise on the Seine in a Yacht with captain and butler, • A luminous decor with giant letters "Marry Me", • An original wedding proposal with a Candy Bar, • A flower arch for a romantic and unforgettable proposal, • A luxurious picnic, • A glamorous hotel room makeover
Experience a luxury marriage proposal with Les Entremetteuses who will create a unique and romantic engagement setup. Our bespoke events reflect your love story, ensuring a one-of-a-kind, unforgettable engagement for every couple.