Isn't it her most precious dream, getting proposed to in Paris, the city of love? Each woman is unique and has her own style, that's why we are going to help you find the proposal that suits her the best.
If you have a precise idea of what you are looking for, we suggest a bespoke proposal. But if you are a little lost, let us help you with our packages, and chose the one that fits you best. We will find you the most perfect proposal in Paris.
1 – Rooftop Proposals
They offer you the perfect romantic and intimist venue for a proposal. We can make it happen at the rooftop of the Arc de Triomphe, of the Lourmel or even at an enchanting garden rooftop.
You will have the rental venue for 1 hour, the installation of your decor (candles, balloons, rose petals, carpet, marry me letters), music on a speaker, a private butler, and on site coordinator.
The prices for this kind of proposal start at 990€ and go to 1490€.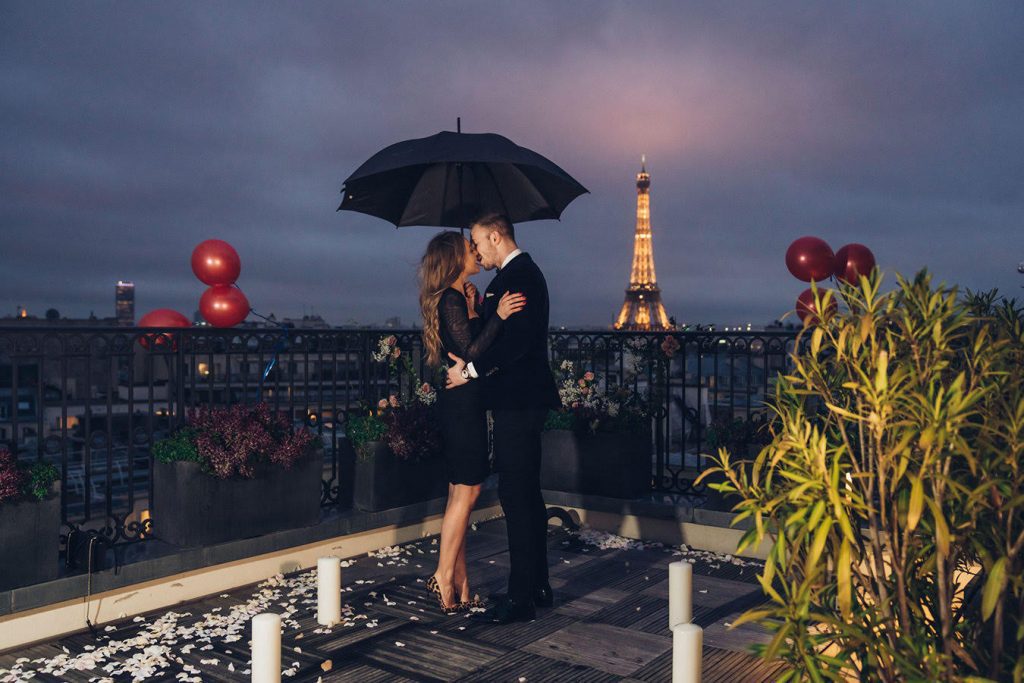 2 – Indoor proposals
If you prefer a quieter place or simply more original, we can suggest an indoor proposal. The neon proposal will allow you to have a very instagrammable place. For a fort-like/ movie room, the movie proposal will be ideal. Last but not least, we can put together a romantic set up in your hotel room or appartement with the room makeover proposal.
Room makeover proposal: Small "Marry me" letters/balloons, Decoration (candles, balloons, led lights, rose petals…), Champagne, Music
Price: From 690€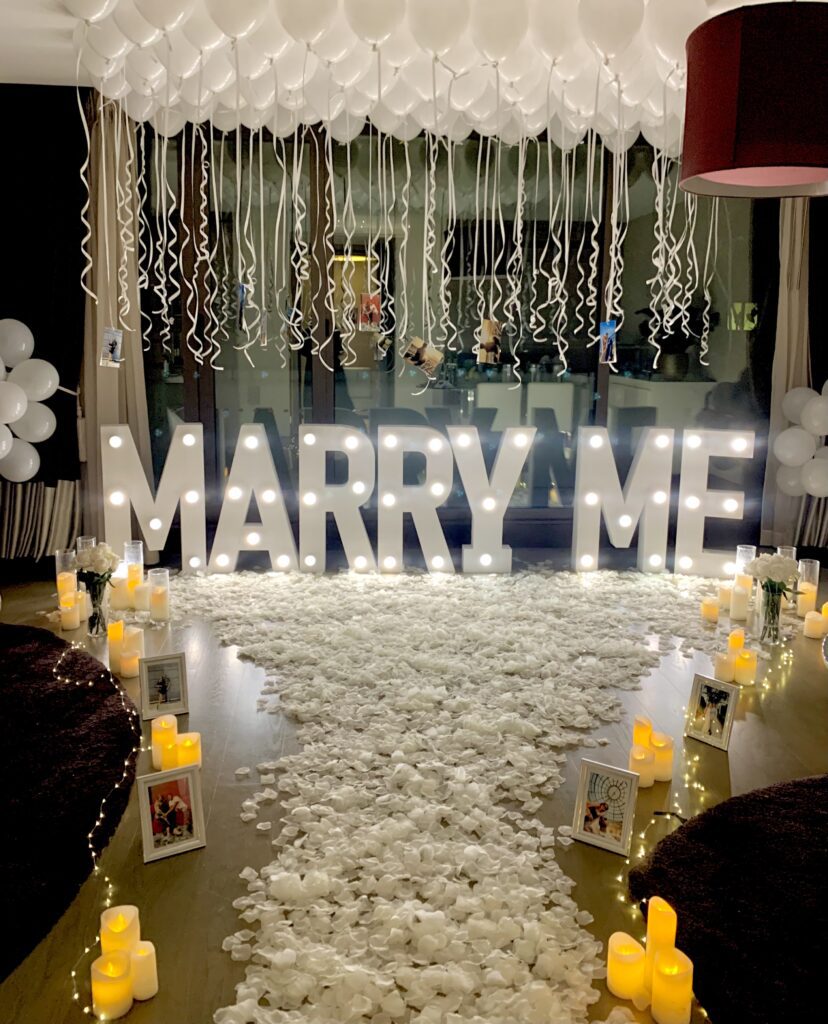 3 – Bespoke proposals
How could you not be the ideal future husband by putting a knee down in front of her with the Eiffel Tower and the romantic city of Paris in the background. To make it absolutely perfect, here are some previous bespoke proposals we made :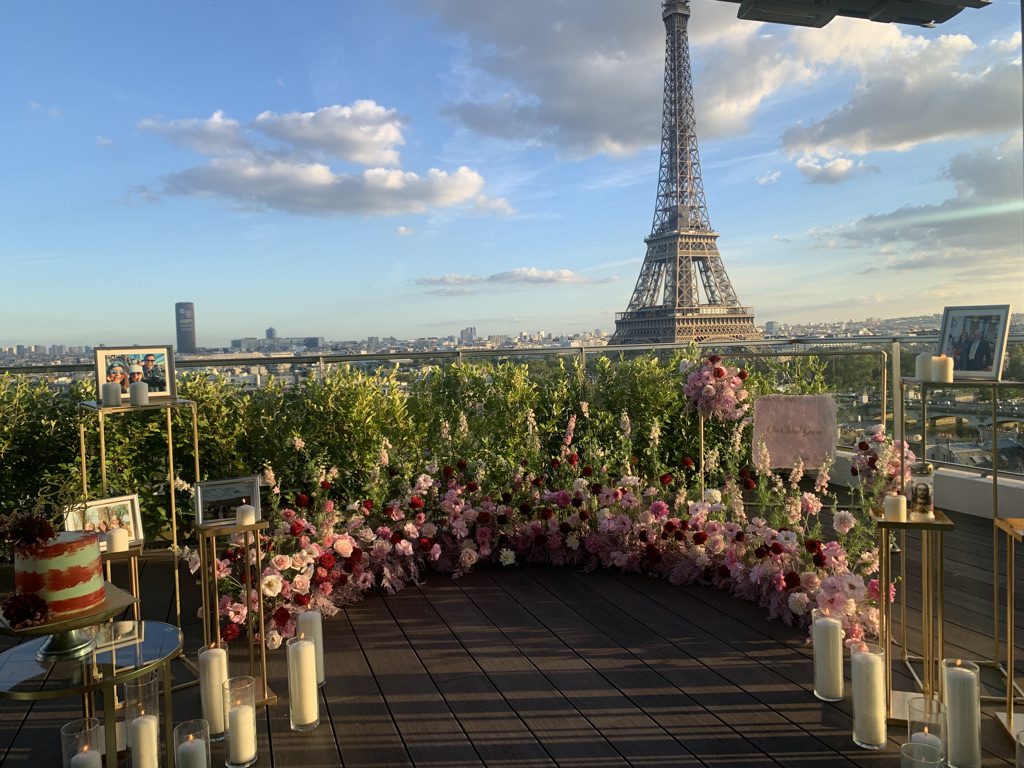 4 – Outdoor proposals
You want to do something more unique or original ? This are your best options. If you want to make her feel like a princess, we can suggest the Cinderella carriage or the Serenade Proposal. If she loves the Seine, she could say yes on a private yacht on a 2-hour cruise, or for a quieter alternative, a romantic boat. To put stars in her eyes, you can have the romantic picnic proposal, or a personalized arch. We will set up this beautiful arch wherever you want in Paris – we recommend a park or the quai de Seine.
Each time you will have decorations (candles, rose petals, balloons, led light, carpets…), snacks & champagne, music (on speaker), and an on site coordinator. Depending on your choice, more options can be included.
The prices for these various proposals go from 590€ to 1590€.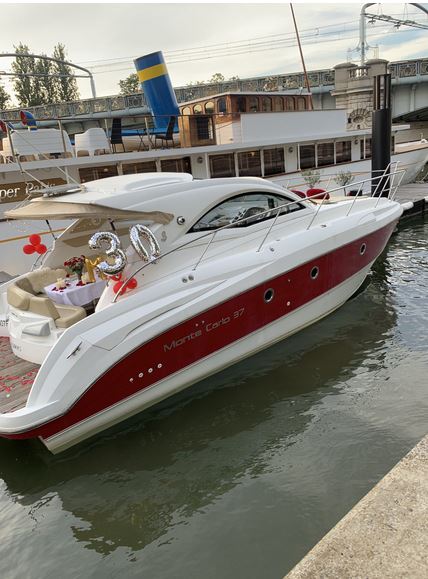 You now have an inspiration for every style, so you will only have to chose the one that suits your heart. Make her say "YES" with the best proposal in Paris !