Discover why we are convinced that the the Eiffel tower view apartment is the perfect venue for your intimate and unforgettable wedding proposal.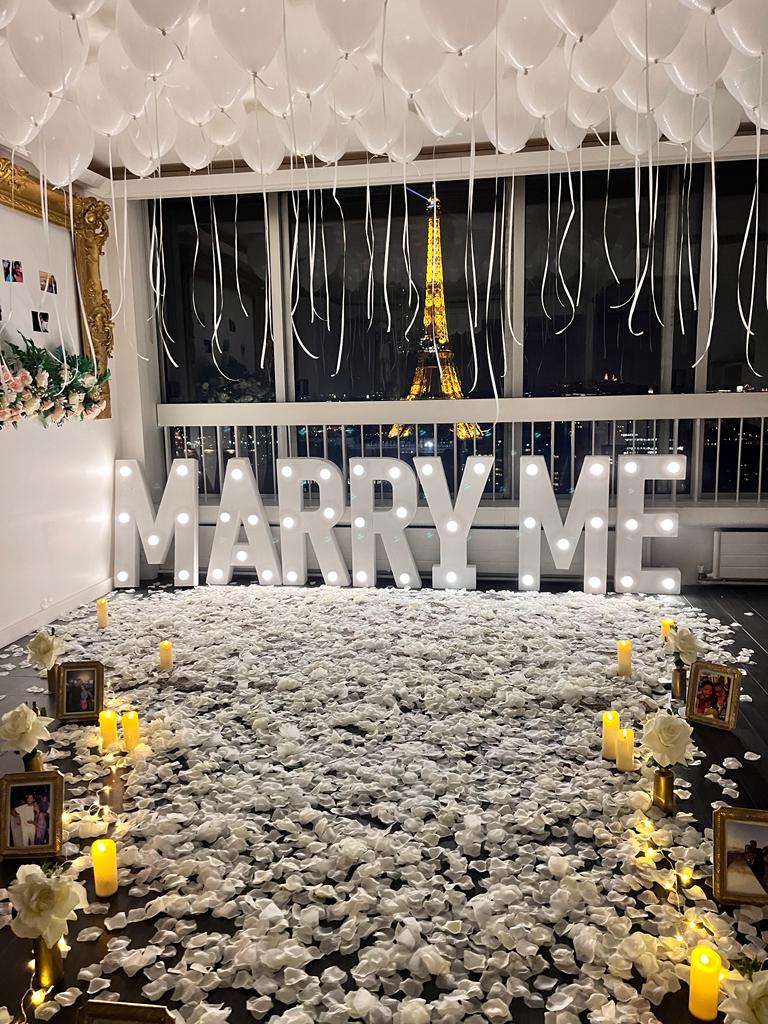 A Warm and Romantic Space, Perfect for Intimacy:
The Eiffel tower apartment is a heaven of warmth and romance. You will immediately feel at home, surrounded by an intimate cocoon that sets the stage for declarations of love. Allow yourself to be enveloped by the soft and romantic ambiance of this exceptional place.
Optimal Privacy for a Wedding Proposal:
The apartment offers absolute privacy, allowing you to create a magical moment for just the two of you. Here, you can fully focus on your love, shielded from prying eyes and unpredictable weather conditions. Nothing will disrupt this special occasion, enabling you to experience your wedding proposal in complete tranquility.
Find some more romantic settings on our packages : https://entremetteusesparis.com/en/prices/
A Romantic Scene in a Luxurious Setting:
Imagine being surrounded by flickering candles, delicate rose petals, and soft melodies playing in the background. The breathtaking view of the Eiffel Tower and Paris adds a touch of grandeur and romance to this memorable scene.
Book the Eiffel tower apartment now to create the perfect setting for your wedding proposal. By choosing this exceptional venue, you guarantee yourself an unparalleled experience in the most beautiful city in the world, Paris. Get ready to embark on a moment of rare intensity, where love, the city's beauty, and the magic of the moment merge to form a perfect backdrop for your love story.
Feel free to contact us today to reserve the EMERIAU apartment and turn your dream into reality in the heart of Paris, the city of love.