Welcome to the enchanting world of the Eiffel Terrace, a unique and exceptional location on Avenue Suffren in Paris. Experience breathtaking views of the iconic Eiffel Tower, unmatched anywhere else. Whether you're planning a luxurious marriage proposal, a romantic candlelit dinner, or an unforgettable photoshoot, the Eiffel Terrace is the perfect setting to make your dreams come true. Let us guide you through this extraordinary experience that will leave you mesmerized.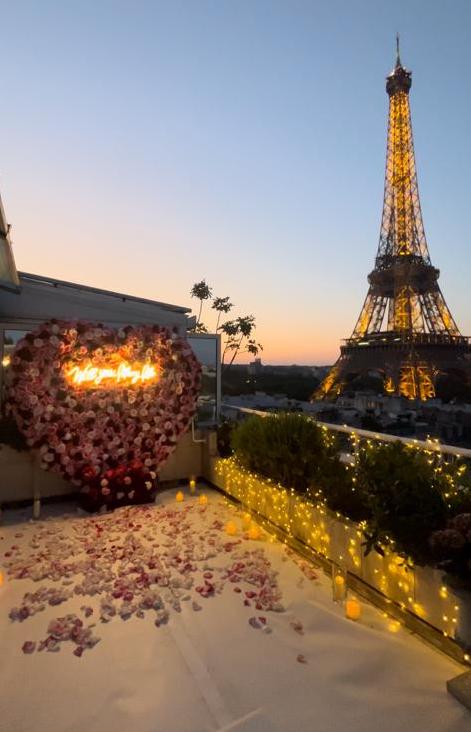 Unparalleled Setting:
The Eiffel Tower Within Reach The Eiffel Terrace offers more than just a venue for your proposal; it's where dreams become reality, love is celebrated, and cherished memories are made. Enjoy the unparalleled view of one of the world's most iconic landmarks, a truly exclusive privilege. Each moment spent here will be a visual symphony etched in your memory.
Unforgettable Ceremonies at the Eiffel Tower terrace:
Luxurious Marriage Proposals or elopements.
Create magical memories with a luxurious marriage proposal in an enchanting setting. Our dedicated team of experts will ensure every detail is flawlessly orchestrated. From lavish floral arrangements and romantic arches to twinkling fairy lights and delicate petals, we'll craft a truly magical atmosphere for your special moment. Let us transform your dream into reality…
Dine Under the Stars:
A Romantic Evening on the Eiffel Terrace Indulge in a romantic dinner under the starlit sky. Imagine savoring exquisite cuisine prepared by our talented chefs while seated with your partner. Let the enchantment and beauty of the surroundings transport you to a world of romance.
A private photo shooting:
Preserve your eternal love through a professional photoshoot. Whether it's commemorating your engagement, wedding, or simply celebrating your love, our experienced photographers will artistically capture every cherished moment. The stunning terrace, complemented by the breathtaking backdrop of the Eiffel Tower, provides the perfect setting for everlasting memories.
Experience the Magic of the Eiffel Terrace Located on Avenue Suffren in Paris, it offers a unique and unforgettable experience. Book now and let us create magical memories that will illuminate your life forever."
Book the venue here by clicking on "rooftops"
Discover the instagram