Claim your love with these big Marry me letters for the best marriage proposal in front of the Eiffel tower.
If you're looking for a unique and memorable way to propose marriage to your significant other, why not do it in Paris? The City of Lights is a romantic destination that will make your proposal extra special. And what could be more impressive than proposing in front of the Eiffel Tower or on the banks of the Seine? In this blog post, we'll give you some tips on how to make a marriage proposal in Paris that will leave your loved one breathless with joy.
One of the most important things to consider when planning a marriage proposal is the location. Paris has no shortage of romantic locations, but some are more impressive than others. The Eiffel Tower is always a popular choice for proposals, as it's one of the most iconic landmarks in the world. If you're looking for something a little more intimate, the banks of the Seine are a beautiful spot for a proposal. Just make sure to pick a place that has meaning for you and your partner.
Once you've chosen the perfect location, it's time to start thinking about how you'll pop the question. If you want to go traditional, you can always get down on one knee and propose the old-fashioned way. But if you're looking for something a little more unique, why not write your proposal in illuminated giant letters to claim your love and place them somewhere visible in Paris?
Click here to see an amazing video https://www.instagram.com/p/CftHBZlA2Qc/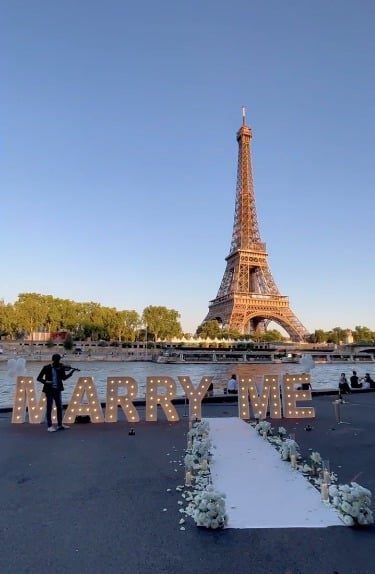 No matter how you choose to propose, Paris is sure to make it an unforgettable experience. So what are you waiting for? Start planning your dream proposal today!
Proposing in Paris is a truly romantic gesture that will make your significant other feel extra special. If you want to know more about it, kindly find the package here https://entremetteusesparis.com/en/outdoor-proposal/
.